Monday, January 30, 2006
It's that time again
Okay, I have a few posts I want to write. One about the break up, one about

Azumi 2

, one about

Gensomaden Saiyuki

, when I've watched atleast some of it. All of these are briefly mentioned in yesterday's megapost spectacular (

quite probably the longest fucking post of my life...

). But it's the time when spoiler pics from the new VS set start hitting, this time from

X-Men

. So, I'm going to bore you with more pretty pictures of cards.

When posting these, I generally add my two cents about each card, with general impressions. However, I'll keep this post brief, since I want a relatively early night before heading back to work tomorrow (

probably an early start, to start catching up on my lost week

). In a nutshell, as

X-Men

is chock full of mutant characters, they've been given mutant traits:

Energy

,

Physical

, and

Mental

.

So far, the Energy trait looks like the most interesting, with the abilities to replace plot twists; turn them face down after use; and burn your opponent's endurance. That said, most of the previews thus far have been Energy, so the others could be equally awesome. Though, time will inevitably tell, when the Sneak Peek hits in a couple of weeks.

And without further ado, I give you the pretty pictures!


posted by Batmite 12:24 am


Saturday, January 28, 2006
Batmite & Co's Excellent Adventure
I guess you could call this post a "sequel" of sorts to

The Winner is Sydenee

, posted about a year back. Basically, it's another incredibly long fucking post about my trip to Sydney for the Big Day Out...!

So, if that one bored you shitless, don't read on.




---




Wednesday, 25 January:

Do Do the Ju Ju



At around 4pm, myself and three others jumped in a car for a roughly four hour drive to Sydney. We were intending to leave approximately 10 hours earlier for a full day of fucked up shenanigans, but the mate who's car it was (

and he wasn't even heading to the Big Day Out

) had to work. The rest of us toyed with the thought of heading up by train, though the driver wanted some company - and fair enough, since we wouldn't be seeing much of him on Thursday.

We arrive in Sydney, and check into the hotel - Holiday Inn at Potts Point. It's a great hotel, though not quite as convenient as the Darling Harbour one. On the upside though, the Virgin Air Hostesses stay here, so that's always pleasant.

At around 9ish, we head across to Ju Ju Japanese Restaurant, across the road. Yes, it's in King's Cross, but really, aside from the

one street of drug fucked hookers

, the place isn't that bad. And Ju Ju is an amazing restaurant. If you like Japanese, you'll love it. It's the second time I've been there, and wasn't the slightest bit disappointed.

And it has an awesome atmosphere. It has a karaoke stage, though being a Wednesday night it wasn't up and running, sadly. We leave there, and decide to get to bed early before the BDO.


---



Thursday, 26 January:

I just figured out why my guitar wasn't working



We grab a quick bite to eat, and hunt down hats. Now, I have an aversion to wearing anything on my head, but after frying last year (

a mate I caught up with before departing on Wednesday referred to me as "Blister Boy", if that's any indication

), I figured I'd swallow my pride and get one. Then we made our way out to Olympic Park for approximately 13 hours of entertainment, between 11:00 and midnight.

We head into the Big Day Out, relatively quickly. While I like the idea of alcohol, I figure fuck it, I'll spend the day dry. Not because I think my liver deserves to be treated with any respect, but more that I'm too lazy to spend an hour in line for the necessay arm band.

The line-up this year was a little bit lacklustre compared to last year. Not that it's crap -

quite the contrary, just about everything I saw was damn entertaining

- but there were less performers that I'm a big fan of.

Click this very link to get a PDF of the entire schedule. It's impossible to see everyone, and at times I didn't wanna see anyone. But, I did catch the following:

Wolf & Cub

- By the time we made our way in and had a wander, we only caught around the last 10 minutes of these guys. And really, meh.



The Grates

- I'd heard a little bit of this band's work, and enjoyed it, though cant't say I was ever a fan. Though this changed it. Great, upbeat fun. Patience, the lead singer, came out with a bit of random stuff, with lines like "I just realised why my guitar wasn't working: It's made out of cardboard, and he has my pills!", which just resulted in befuddled looks from the audience. Aside from stupid lines that didn't work, their music was great fun.



The Silent Disco

- Not really a musical act, but a, well, silent disco, with two DJ's. This ran most of the day, and it would probably have been more fun had we checked it out later when more people were around. Basically, two wacky European DJ's are playing, but you can only hear them through headphones. You switch between them, and it was fun. The technology's not quite seemless, and the DJ's could be a little more talented, but it's a fun concept I can see hitting it big in Europe. That, and it looks fucking funny when watching from the outside.



Dei Hamo

- Okay, I'm not the slightest bit into hip hop. But these guys rocked. They have talent, and really know how to work the audience with some great comedy, playing off the hip hop stereotypes. Definately a cool act, even if I wouldn't buy their CDs.



Gerling

- I was expecting to see the whole show, but missed the majority of it because Dei Hamo was so cool. What I saw was typical Gerling: I enjoy their stuff, but they didn't put on a fantastic set.



Magic Dirt

- Yes, I saw them yet again. They've given crappy shows before, though I was hoping with a decent crowd and a professional set up, they'd give a good performance. And they did far more than that: they went off. One of the highlights of my day - Adalita was fantastic, and the band went all out. Out of the many performances I've seen them give, this was by far their best.



Sarah Blasko

- After lunch, we caught Ms Blasko. This is the second time I've seen her live. And, oddly enough, the second time at Big Day Out. Last year, she was a little disappointing. This year, however, she was fantastic. I don't know if it comes down to experience at live venues or what, but she was great. Well worth seeing live. That, and she's kinda cute.



The Go! Team

- I caught these guys purely because one of the people with me's a fan. He enjoyed them, I didn't. This is the only act of the day where I thought they just plain sucked. They go for an upbeat feel, but the act is so unpolished, and the voices hardly carried. A complete and total shocker. Seriously, I was wanting to be anywhere but in earshot of them.



Henry Rollins

- I'm a big fan of Henry Rollins, whether it's his music, voices in cartoons, or his stand up. Here, he gave a spoken word set, which included healthy doses of humour, but can't be considered stand up comedy by any stretch of the imagination. He gave anecdotal stories about Iggy Pop, Nirvana being outdone by Aussie music, and a very personal bit on the death of Johnny Ramone. Not to mention politics, laying into George Bush and John Howard. A great, great set. I'm waiting for him to make it to Australia again, so I can see him for more than 50 minutes.



The Living End

- Catching this band was incidental, more than anything. We basically got to the stage so we could get into the mosh pit for Franz Ferdinand, and the acts following them. The Living End, was well, the Living End. Fun, yet unremarkable. Not that I have any complaints about them.



Franz Ferdinand

- They start, and we're still in the queue for the mosh pit. We toy with heading across to the other line, but eventually figure that we won't make it in for the act, and can atleast see them from the line we're in - and, theotetically, get in for Iggy Pop. The performance was great, and you can really see that they are heavily influenced by David Bowie. Well, I noticed it, being a huge Bowie fanatic. Unfortunately, on a personal level, it was hampered by the fact that the people in the queue were getting pissed off at being stuck there. Push came to shove - a lot. Atleast I got to flirt with some very attractive girls in there (and before you ask about my girlie - we broke up a couple of weeks back - I'll get around to a post on that eventually)...



Iggy & the Stooges

- While Magic Dirt was a highlight of the day, Iggy & the Stooges were

the

highlight of the day. Iggy Pop, now 58 years old, still knows how to rock with the best of them. After pumping so many drugs through his system in years gone by, you'd think he'd have lost it by now - hell, look at Mick Jagger - half the man he was. But, Iggy was amazing. He gave a spectacular performance, bouncing around the stage like a maniac - so much so, his roadies had trouble keeping up with him. At one point, he dragged the front of the audience on stage with him (which really rubs salt into the wound since I couldn't make it up there being stuck in the queue for ages - hell, I was even there for his first ten minutes!), and rocked with around 20 people. Later in the set, he jumped down into the audience, and rocked some more. Iggy rocks, plain and simple. His act went about 15 minutes overtime, and you get the idea, that if able, he would have kept playing for hours. I made sure I got me an Iggy & the Stooges tour t-shirt - just to show I was there - far more important than going to the Big Day Out. It was probably my only chance to see this dude, and he was fucking fantastic. Why were the White Stripes headlining above him???



The White Stripes

- They had a beautiful set display, and technically these two were fantastic. They performed rock, folk inspired music, blues influenced music, and did an amazing cover of "I Don't Know What to Do With Myself". I'd heard the band's singles, and never got into them, but have a newfound respect after seeing just how versatile they are. The one drawback was that they basically got on stage and sang, without working the audience. Unlike Iggy, and many other performers of the day, they were disappointing in that respect - they barely even spoke to the audience. The music was great - the performance itself, however, was lacking.



2 Many DJs

- Fun DJ's, technically cool. The Boiler Room is a great venue for dance music, and the amount of people pilling was funny. By this point, I was getting a little tired, and didn't enjoy it as much as I could have. That, and I was there for bands more than DJ's, much as I do appreciate dance music.
There were a few other acts I would have liked to have seen, but didn't end up catching:

Wolfmother

- They're cool, but we decided to opt for Sarah Blasko instead. Basically figured we may as well chill over something quiet before hitting the big acts for the night.



Sonicanimation

- As I mentioned above, I was at the Big Day Out for bands, rather than DJ's. But I really did Sonicanimation.



KK Juggy Burlesque

- KK Juggy of Machine Gun Fellatio fame (or infamy, depending on your perspective), doing a burlesque show. It would have been fun, but there was no way any of us were missing Iggy for it.
So, tired, we head home. Still a little jazzed by the night, one of my mates and I wander til about 2ish before heading to bed.


---



Friday, 27 January:

Nyah! I saw a dinosaur. Nyah!



I set my alarm for 9am, wanting to head out to Sydney Games Centre in Burwood early. I don't actually end up getting out of bed until 10, and by the time I get ready and catch two trains, I don't arrive until 12ish.

It's funny - the last Big Day Out trip, I buy a VS starter pack, and don't even open it for nearly six months. This trip, I'm hunting down a store to buy some singles.



I get there, filter through the cards, and chat to the owner, who I know via VSParadise. Very cool guy indeed. He rounds down the $54 worth of cards to $50, and gives me a free starter box of the now out of print X-Men card game. Apparently it's fun for a quick game here and there. I grab a couple of packs of sleeves, and we chat cards and Heroclix, which I haven't played in over a year due to lack of support here in Canberra.

I hop a train to Central, to catch up with my friends. After grabbing a quick bite to eat, we head around the shops. I run into Books Kinokuniya and grab some trade paperbacks (

because they're fucking cheap, especially with my additional 10% off

). I grab the following trades:

Y: The Last Man

volumes 2-4

- The first volume blew me away, and I've heard nothing but praise for the later issues



We3

- I'm a huge Grant Morrison fan, and have heard endless praise for this story about animals in battle suits



Vertigo: First Offences

- I have

Vertigo: First Taste

, and missed this one when released here in Canberra - basically a slew of #1's from Vertigo comics
We grab a quick dinner, and head back to the hotel, to shower and get changed before heading out drinking. We hit a karaoke bar thingy with designated rooms for groups on Elizabeth Street, and drink beer and shots as we massacre a ton of songs. An amusing diversion for a couple of hours, though it'd be better with a large group of 10-15 people, instead of four.

While the others finished their drinks, I go outside for a breath of fresh air, and nicotine fix. I get chatting to four very attractive girls, with an obsession over the word "Nyah". Okay, it's not a word. Which makes these girls all the more incomprehensible, especially with lines like "I saw a dinosaur. Nyah!" Fairly drunk, I found this particularly cute, and was disappointed when my friends dragged me away, thus ruining any chance of a five-way with the "Nyah" girls.

We head to the Astral Bar at Star City and have a couple more drinks before heading into another bar in the complex, the name of which I forget. After this, we grab a last drink at the Home Bar, before hopping a cab back to the hotel for the night.


---



Saturday, 27 January:

Spam!



And thus comes the last day of our amazing adventure. I sleep in til around 10, before checking out, and we all head to Chinatown to do a bit of shopping. That, and check out the Chinese New Year festivities.

The festivities were fun, with a dragon parade, and markets. I didn't spend much time checking out the markets, though a stall dedicated to Spam (

not the email crap; the "I can't believe it's not ham" crap

), with a whole ton of different types, and an offer: Buy three cans and get a free cap. That's just... that's just fucked up. I swear. Like, who goes out to a big marketplace for Chinese New Year and decides to get Spam? Apparently a few people, because there was a decent queue!

We grab lunch at the food court there, where you get the most amazing Asian meals dirt cheap. I grabbed a fantastic Tokyo Don with a soup from the eatery called "Mr. Don" - a huge meal, great qualitym and only $8.50.

After lunch, I run into a couple of shops for some bootleg DVDs (

just Asian stuff I can't get here - I believe the necessary people should get the necessary royalties

), and grab the following:
So, after a huge meal and shopping, we hop a cab back to the hotel, grab our bags from reception, and head home. A relatively seemless trip, until we hit a

mother of a storm

as we were arriving in Canberra.

All in all, a fucking great few days!
posted by Batmite 10:38 pm


Monday, January 23, 2006
Do the monkey with me!
I'm a huge

Planet of the Apes

fan. I enjoyed each of the original saga; every movie had it's own merits, even if the sequels don't live up to the original. I even enjoyed Tim Burton's "

reimaging

". The book is great,

though anyone who complains that the movies aren't enough like the book probably haven't read it.

The twist would not work in a film with visuals, and a literal translation of the ape-conquered world would look hokey. Both the original film and the new one adapt different aspects.

A couple of years back, I got my hands on the six disc box set (all five original movies, and the great

Behind the Planet of the Apes

documentary, and thought it was pretty fucking cool. But it pales in comparison to the new, shiny 14-disc

The Planet of the Apes: The Ultimate DVD Collection

, in a funky box based on the mask Roddy McDowell wore as Ceasor in the later movies.


Seriously, click on the image to see it in it's full glory. It's amazing.



So, how the hell are they filling up 14 discs? The DVD set includes:

Planet of the Apes

two disc edition, with a plethora of features, including

Behind the Planet of the Apes

(2 discs)




Beneath the Planet of the Apes

movie

(1 disc)

Escape From the Planet of the Apes

movie

(1 disc)

Conquest of the Planet of the Apes

movie

(1 disc)

Battle for the Planet of the Apes

movie

(1 disc)

The fourteen episode

Planet of the Apes

TV series, including one that was never aired

(4 discs)

The thirteen episode

Return to the Planet of the Apes

animated series

(2 discs)

Tim Burton's

Planet of the Apes

remake

(2 discs)
That is one exhaustive set, with an awesome box. It's released in the US in March, and has a price of $179.98, so

it doesn't come cheaply

. I have no idea whether it'll get a release out here or not, but at the current conversion rate it looks like about $240 Australian. I don't think I'll bother importing the US version just yet, though I may eventually throw $240 forward (plus shipping, etc) if it never makes its way here...
posted by Batmite 12:02 am


Sunday, January 22, 2006
Some of the photos actually looked cool....
It's been almost two weeks since my last post. Been busy with work, and I'm heading to Sydney for the Big Day Out on Wednesday, and will be back in town sometime Saturday (then likely off to a card tournament on Sunday). I'll try to get a few more posts up before my departure...

Some of the character photos for

X-Men 3

were actually looking cool, leading me to think

hey, maybe this movie won't suck as badly as I thought

. Well, the following pics of Dark Phoenix have popped up online, and these ones have me thinking

crap, looks like this movie will suck as badly as I thought

.


Anyone who saw

X2

saw Jean Grey die. And those of us familar with the X-Men comics were grinning, seeing how it leads into the Dark Phoenix saga, where Jean comes back, corrupted by a devastating force.



I know I left the cinema with a huge fucking grin, looking forward to the next sequel -

hell, I wanted it NOW!



But then Bryan Singer left the film, to go and make

Superman Returns

. A lot of people are disappointed with what he's doing with the film (

though I'm not one of them

), but that's really just an aside. Singer's an amazing filmmaker, though he was replaced with Brett Ratner on

X-Men 3

. And while

Red Dragon

was cool, he ripped off

Silence of the Lambs

, giving an uininspired - though admittedly fun - prequel.

And this brings me to the images above. These images really aren't remotely capturing the essence of Dark Phoenix. And it's disappointing. According to reviews of the script, the film is only treating this as a subplot (instead focusing on a romance between Wolverine and Storm - because Halle Berry,

one of the least deserving Oscar winners in history

, wants a bigger role), and considering the complexity of the story, it's disappointing.

Now, I'm not a huge X-Men fan. I saw the first one because it's a Bryan Singer movie. It was cool, so I went to see the sequel. And it blew me away. But now we have a vastly inferior director apparently ignoring what made the first two movies so great, and relegating a powerful story to a subplot.

Great, huh?
posted by Batmite 11:09 pm


Tuesday, January 10, 2006
Hardly clerkin'
I just downloaded the

Clerks II

trailer. Originally promised at the end of

Dogma

(and then titled

Clerks 2: Hardly Clerkin'

), Kevin Smith went on to direct

Jay & Silent Bob Strike Back

, and then the movie that was supposedly going to mean the end of constant dick and fart jokes, the incredibly underrated

Jersey Girl

.

And now he's returning to the world he's known best for, a sequel to

Clerks

. Kevin has been referring to the film as

The Passion of the Clerks

, a name that hasn't been popular, on the basis of how it's already a dated pop culture reference. It appears that he's had some common sense knocked into him, with the teaser calling the film simply

Clerks II

.



And how was it?



Fairly disappointing. Not because the movie looks lacklustre, but more that it's a montage of scenes with music over the top. Running for 1:53, we only get three lines of dialogue.

From the scenes we see though, the film looks closer in spirit to

Jay & Silent Bob Strike Back

than anything, though this could be partly symptomatic of Randal and Dante now working at Mooby's. The film also looks to have it's fair share of View Askew cameos, with them showing up as customers.

Kevin has mentioned a couple of times online that this is his favourite movie he's made, taking over from

Chasing Amy

. It'll be interesting to see if this film has the same heart of the aforementioned film, or even

Jersey Girl

. Though, at the very least, it does look pretty fucking funny.

You can watch the teaser at www.clerks2.com, or download it properly through www.movie-list.net.

I can't help but wonder, if after this film's released, whether Kevin Smith should try resurrecting

Clerks: The Animated Series

. Yes, it flopped. But ABC fucked it around big time, and it was also released back in 2000 - a time when animated series' for adults weren't getting their due respect (and aside from

The Simpsons

and

South Park

), there were very few airing.

I can't help but get the feeling that if it were aired in today's marketplace, it'd be far more successful.

Maybe even base it on

Clerks II

?
posted by Batmite 11:16 pm


Heroes and villains
Okay, it's been four days since my

Thirteen Genres

post, and I still haven't started with my top movies in

any

genre? And this isn't one of them. Am I slack? Quite probably. But maybe I should have indicated that

I'm not planning on getting to them immediately

,

nor am I going to do them in quick succession

.

Not that this is the point of the post. I'm not writing it to make excuses, I just figured I may as well while writing this one up.



Anyhoo...



I picked up this week's shioment of comics today, and among them was the latest issue of

Inquest Gamer

(and I know it's not a comic, it was just among them). A gaming magazine, I pick it up for the small amount of VS content each issue contains.

Being the

big 2006 preview spectacular thingy

, it has a three page article which predominantly focuses on the next VS set,

X-Men

. I can't say that I've been looking forward to this set much; especially in comparison to the last couple that have been released. From a fanboy perspective, I'm not an X-Men fan, and the characters were predominantly featured in the

Marvel Origins

set.

And yet, this article changed my mind.

The set features four team affiliations:

X-Men
Brotherhood
Morelocks
Hellfire Club
Of these, Morlocks and Hellfire Club are new affiliations, with X-Men and Brotherhood already having a slew of cards available.

The interesting thing about this upcoming set, however, is the new "mutant" dynamic. Every mutant character (which is the majority of characters featured), will have a mutant trait. Different from the keywords previously given (

Leader

,

Reservist

,

Concealed

,

Evasion

, etc), this will sit on the frame of the card and will be available while the character is stunned.

While the article doesn't mention what the traits are, apparently various plot twists will be asociated with different traits. What this means is that traits give you a different way to build a deck, as opposed to team affiliations. This could really bring a fun new dynamic to the game.

The article also featured tidbits on the next two sets,

Infinite Crisis

and

Heralds of Galactus

.

On the

Infinite Crisis

front, lead designer Mike Hummell describes it as

"the most topical set we've ever done"

,

and that it ties directly into the comic of the same name.



X-Men

marks the beginning of recycling team affiliations (due to the new Silver Age style of tournament, where the eight most recent sets are legal for play, and wanting to keep the "big" teams in play), however

Infinite Crisis

won't be doing this - however it is apparently the last set to have four new affiliations.

These affiliations are:

Shadowpact

Villains United

Checkmate
OMAC
So, fun all round, though it looks like most of the "big name" characters will be absent from the set.

Information on the

Heralds of Galactus

set is very high level, indeed. Basically no information is given about it (

understandable, given that it's still over six months away

). The article does pose the question about how you can make a balanced card for Galactus, considering he eats planets with no worries.

So, we have some interesting cards ahead of us.

X-Men

brings a powerful new dynamic, and

Infinite Crisis

will bring four new affiliations which could be cool. And I'll definately be having some fun with

Heralds of Galactus

...
posted by Batmite 10:34 pm


Sunday, January 08, 2006
Rapid eye movement
Rapid eye movement (REM) is a stage of sleep characterised, by... well, rapid movement of the eyes. Fairly self-explanatory, really. The function of REM sleep isn't really understood. There are a few theories about this though:

It's important for the consolidation of procedural and spatial memories;


Another theory is that monoamine shutdown is required so that the monoamine receptors in the brain can recover to regain full sensitivity (as REM deprivation can lead to depression);


And a third theory is that it is needed to help you develop your brain
One thing is clear, however, and that is that most of people's dreams (especially the ones you remember) occur during the REM phase.



And where is all of this talk about sleep and REM going?



Basically, to talk about

Smallville

(

a brief bit, which I thought I'd pad out for good measure

). Tonight's episode, called

Slumber

(and if any

Smallville

fans from the US are reading -

yes, we are that far behind

) was one of the crappier episodes of the show. About half of the episode was set inside Clark's dreams, as he tries to help a comatose girl who somehow (and this remains unexplained) finds her way into his dreams.

Yeah, not the greatest concept. And definately not the greatest episode.

However, in the dream sequences, all the non-score music consisted of songs by REM. And I thought that was kinda funky. A nice bit of a subtle reference to the episode's plot.

That, and the REM songs were the best thing about this episode. Atleast we get Michael McKean showing up next episode as Perry White.
posted by Batmite 11:25 pm


Saturday, January 07, 2006
Which Hoff am I?
Just a quick post about a fun little diversion I found today. It's an online quiz at Quiz Galaxy about which David Hasslehoff you are. You answer a few questions about yourself, and it likens you to the Hoff.



So which Hoff am I?





Cult Icon Hasselhoff





You are Hasselhoff, the Cult Icon. You revel in your enigmatic and confusing popularity – moreso in the positive aspects of it than the confusing or unclear parts. You are the shining star of the world: more specifically, of Germany. Someday, you will be featured in a ticker-tape parade. Someday!
posted by Batmite 11:34 pm


Constructs
A little while ago, I posted with some fantasy VS cards that I entered into VS Paradise's Fantasy Card Competition.

And, I've entered some new ones into the latest round. So if the aforementioned post

bored you shitless

, you'd do well to skip the rest of this one.

The theme of this round was Constructs. Constructs were introduced in the

Green Lantern

set, and made a comeback in

Justice League of America

. Basically, a "construct" for the purpose of the set, is something created by characters with willpower - generally by Green Lanterns with their Green Lantern ring, though the Willpower mechanic was expanded upon in the latest set.

While in the previous round, all four of my entries were characters, this time I went for a

Plot Twist

card, a

Location

card, and an

Equipment

card. Unlike the last round, none of the cards made it into the final four :-( I was hoping one would, just on the basis that there was less competition this time, so my chances were theoretically higher...


Card #1 -

Citizens of Coast City

(plot twist)

This is my favourite card of the three, and the one which I was hoping would make the final four. Alas, this wasn't to be.

My reasoning for this one is that the Green Lantern team affiliation is great defensively, as Willpower bonuses are great for rebuilding endurance. However, this card doesn't just work with this affiliation, but anyone with Willpower.

What it allows you to do is exhaust a character with Willpower, pay endurance equal to the willpower, and KO a character with a cost equal to, or less than the Willpower of the character you exhausted. A nice way of trying to gain a bit of an advantage.

My thoughts were that between the card cost, having to exhaust a character, and pay endurance, the card wouldn't be

too

good. If you want to KO a large character, chances are you'll either have to boost a small guy's Willpower, or use a big character.

From a flavour perspective, it's based on Parallax getting revenge on Cyborg for destroying Coast City. Parallax used his stolen Green Lantern rings to construct the population of the city, to swarm Cyborg, and beat him to death.

I cheated with the image, because I couldn't find anything with the citizens on it. I took an image from a black and white indy comic, and added the green highlights. Didn't come out looking too bad IMHO.


Card #2 -

House of M

(location)

There's nothing to say that "constructs" have to be limited to characters with the Willpower mechanic. So I thought for my second card, I'd have a different form of Construct.

Based on the

House of M

miniseries, this card has the Activate ability to put an attack/defence counter on an X-Men or Brotherhood character. The card costs 4 to flip, and as an additional cost, you have to exhaust Scarlet Witch.

Basically, I wanted a card which makes characters more powerful, but still have a decent cost to play. This lends itself nicely to the flavour, since Scarlet Witch created the House of M reality. The card only helps X-Men and Brotherhood characters, as House of M is a world where mutants ran dominant.


Card #3 -

Yellow Battle Armor

(equipment)

This is the most simplistic fantasy card I've ever made, and works as an attack and defence pump for characters with Willpower.

Conceivably, this could give characters huge bonuses with their attack and defence. You could equip this to a character with a large amount of Willpower, and even boost this further.

To compensate, this costs two resource points to equip to a character. If you recruit a 6 drop, to equip this card, you would need to be on turn 8. Since there are ways to lower the cost of equipment by 1, I thought it was necessary to have this at 2 (so you always pay something to equip it).

The image isn't from a comic (obviously), it's taken from the gigantic Sinestro Heroclix figure.
posted by Batmite 10:54 pm


Friday, January 06, 2006
Thirteen genres
A couple of days ago, a few mates and I were arguing over what the best superhero movies of all time are. This was inspired by this article, which ranked their top 25 of all time. Although we couldn't agree on what the best superhero movies were, none of us agreed with all the choices in this article.

The article in question is part of a feature where they rank their top 25 movies in the following genres:

<>>
Superheroes
Animation
Dramas
Thrillers
Music
Horror
Crime
Sports
Fantasy
Holiday related
Action
Comedies
Sci-Fi
This has made me think. While writing up about 25 movies in each of these genres would be incredibly arduous, I'll eventually list my top

13

in each of these

13

genres. One genre at a time, so you're not reading

too

much at once...
posted by Batmite 11:14 pm


Best in comics 2005
There have been quite a few articles on comic websites over the past week where people are picking their favourite comics, creators et al, for 2005. So, always the follower and never the leader, I figure why the Hell not follow suit?

So I am.

What follows are my picks for the best comic books had to offer in 2005.



Best Writer:

Geoff Johns


Geoff, in many ways, is DC's Brian Michael Bendis. The go-to guy for big projects. Johns understands the DC universe wonderfully, tells great stories, gets inside the characters' heads brilliantly, and can tell a diverse range of stories. He's the best DC - or any company for that matter - have to offer.


Also Great in '05:

Grant Morrison; Brian K Vaughn, Gail Simone



Best Artist:

Phil Jiminez


Yes, Phil's working with Geoff Johns on

Infinite Crisis

. And no, this post isn't about be blowing a wad all over said miniseries. In the first three issues, however, Jiminez has proven to the world that he's not just a George Perez clone. This artist has come into his own, with some beautiful, amazing work.


Also Great in '05:

Simone Bianchi; Jim Cheung; Leinel Francis Yu



Best Single Issue:

Solo #7


Mike Allred's issue in the anthology series,

Solo

. This issue reminded me of what a huge talent Allred, creator of Madman is. The issue featured his wonderful art, as well as a wicked sense of humour in his pages.


Also Great in '05:

Jingle Belle: The Fight Before Christmas

;

Countdown to Infinite Crisis

;

Young Avengers Special





Best Miniseries:

Villains United


I was tempted to put

Infinite Crisis

here, though the miniseries hasn't yet finished.

Villains United

was the greatest of the lead-ins (though most were still great), told with a real sense of humour, and style. Oh, and it also made Cat-Man cool.


A

lso Great in '05:

Deadshot

;

Green Lantern: Rebirth

; Seven Soldiers: Zatanna



Best Ongoing Series:

Runaways


Currently, there are three books based on teenagers that are really worth reading:

Teen Titans

,

Young Avengers

, and

Runaways

. This last title got a second lease on life this year, and rightfully so. This is a book that really makes you care about the characters, with some funky action, and great dialogue to boot!


A

lso Great in '05:

Young Avengers

;

Wonder Woman

; The Flash



Best Story Arc:

"I Can't Believe It's Not the Justice League", JLA: Classified


Keith Giffen and JM DeMatties returned to their old Justice League stomping grounds with this story arc, originally intended as a miniseries. Featuring the characters used in

Justice League International

, they gave us a hilarious story arc. The fact that it was released after the death of Sue Dibny put a dampner on things, though it doesn't affect the storytelling one bit.


A

lso Great in '05:

"Breakout",

New Avengers

; "Under the Hood",

Batman

; "Sacrifice",

Superman

,

Action Comics

,

Adventures of Superman

and Wonder Woman



Best Hero:

Zatanna


Zatanna has jumped to the forefront of the DC Universe over the past year. After the mindwipings inherent in 2004's

Identity Crisis

, the character has been living in guilt over playing with people's minds. Add to this her brilliant

Seven Soldiers

miniseries, and she really was comics' hero of the year.


A

lso Great in '05:

Blue Beetle; Green Lantern (Hal Jordan); X-23



Best Villain:

Cat-Man


A cheesy Silver Age villain who returned to the DC Universe a few years ago in the pages of Brad Meltzer's run on

Green Arrow

, as a fat, hopeless, ex-villain. The next time he was seen was in the pages of

Villains United

, as one of the members of the Secret Six. An honour bound, tough guy - who happens to also be a villain.


A

lso Great in '05:

Black Mask; Maxwell Lord; Dr Light



Best Surprise:

The Return of Jason Todd


Jason Todd, the second Robin, was murdered by the Joker almost 20 years ago. As it stood, his death was one of the very few in comics that stuck. He wasn't coming back. That was until Judd Winick's "Under the Hood" story arc in

Batman

, which brought him back, much to the chagrin of myself, and many other Bat-fans. And yet, surprisingly, it didn't suck. The stories that have followed on have developed Jason Todd - now calling himself the Red Hood - into an intriguing contradiction of a character.


A

lso Great in '05:

Young Avengers

; Blue Beetle's death in

Countdown to Infinite Crisis

; Freshmen



Best Disappointment:

House of M


Brian Michael Bendis has been hit and miss for me. I thoroughly enjoy his work on

Daredevil

, but much of his other stuff leaves much to be desired. The major case in point being

House of M

. Though this miniseries did have a couple of fun moments, for the most part, it was fairly dull and boring. I don't like the fact that they've axed the mutant numbers (that said, a couple of the "Decimation" follow on stories have been great - with far more depth than the actual miniseries itself!).


Not So

Great in '05:

"City of Crime",

Detective Comics

;

New Avengers

(after the first story arc);

X-Men: Phoenix - Endsong



posted by Batmite 10:10 pm


Thursday, January 05, 2006
Young businessman of the year
Just a quick post tonight. I give you the

Young Businessman of the Year in 2005

.



Gotta say this picture made me giggle. Wrong, but funny!
posted by Batmite 9:44 pm


Tuesday, January 03, 2006
05 for 05
I was wanting to write up a bit on the top 10 movies I saw last year, but:

I haven't seen as many movies as I generally do in a year;
I really couldn't think of ten movies that made a huge impression
So I cast my mind back over the year, and I managed to come up with five movies that I thoroughly enjoyed, and wouldn't think twice about recommending to anyone who hasn't seen them.


5. Sin City



Jessica Alba's had a pretty prolific year, this year. She managed to appear in one of the worst movies of the year (

Fantastic Four

), a fun little thriller (

Into the Blue

), and one of the very best movies of the year -

Sin City

.

Everybody keeps trumpeting on about how

Sin City

is the most faithful comic book adaptation ever. Well, yes, that's true. But it's a lot more than that.

It's a roller coaster ride inspired by film noir, with beautiful cinematography, a tongue in cheek script, and an amazing cast.

There's the aforementioned Alba as Nancy; Benicio Del Toro as Jackie Boy; Michael Clarke Duncan as Manute; Rutger Haur (who seems to be on the comeback trail this year) as Cardinal Roark; Jaime King as Goldie and Wendy; Michael Madsen as Bob; Brittany Murphy as Shellie; Clive Owen as Dwight; Mickey Rourke as Marv (in perhaps the role of his career); Nick Stahl as Roark, Jr (or the "yellow bastard"); Elijah Wood doing creepy as only he does as Kevin; and the always great Bruce Willis as Hartigan.



Currently ranked

#75

on IMDB's top movies of all time.



"I've been framed for murder and the cops are in on it. But the real enemy, the son of a bitch who killed the angel lying next to me, he's out there somewhere, out of sight, the big missing piece that'll give me how and the why and a face and a name and a soul to send screaming into hell."




4. King Kong



I was quite hesitant about seeing the movie.

I was put back by it being over three hours long.

And yet, I still thoroughly dig this movie. It's a triumph. Peter Jackson has crafted a movie far better than his grossly overrated

Lord of the Rings

. It's his best yet - even better than

Meet the Feebles

!

Jackson knew, that unlike every other remake of

King Kong

, it would be a terrible idea to take it out of the 1930s. But, when it's all said and done, that's simply window dressing. Many have jumped to assume that it's another attempt to remake a classic, but with new toys. But in this instance, those "new toys" work.

Between Andy Serkis's performance as Kong, and the amazing CG, we get a soulful, believable Kong. And that's quite a statement when we're talking about a giant monkey.

Aside from Serkis, the cast is amazing: Naomi Watts as Ann Darrow; Jack Black as Carl Denham; and Adrien Brody as Carl Denham. Not to mention the ton of smaller roles, which are also awesome.



Not ranked at all

on IMDB's top movies of all time (though it does only go to #250).



"

There's only one creature in the world that could have done this... the Abominable Snowman"


3. The Chronicles of Narnia: The Lion, the Witch and the Wardrobe



Don't let the Christian themes and sensibility of this film deter you from seeing it. Yes, they're there (though blown out of proportion by people trying to read stuff into it), though they form an uplifting story about triumph against adversity, sacrifice for your beliefs, and ultimately, doing what's right.

This is the film that should knock

The Lord of the Rings

from it's pearch as reigning fantasy film based on a classic story. I don't think it'll manage it at the box office, and that's a shame (and before you start asking about

Harry Potter

, as cool as it is, there's no telling whether it will stand the test of time).

The movie basically gets everything right. A faithful adaptation of the source material, it truly brings the world of Narnia to life.

The cast features a largely unknown cast, aside from Liam Neeson as Aslan, Tilda Swinton as the White Witch, and Jim Broadbent in a small role as Professor Kirke. A shout out should go to the kids: William Mosely, Anna Popplewell (though these two are 18 and 19 respectively) Georgie Henley and Skandar Keynes (these two in their first and second films respectively).

The film captures the magic inherent in the world of Narnia, and CS Lewis's words truly come to life.



Also not ranked

on IMDB's top movies of all time.



"

Aslan, I'm not who you think I am."

"You're Peter Pevensie, formerly of Finchley. Beaver also mentioned that you want to turn him into a hat."


2. Serenity



Unfortunately,

Serenity

didn't do big business at the box office. At all. Unfortunately, basically everyone's written it off as a flop. Hopefully the DVD'll sell big, which would really be the only chance we get at getting a sequel.

The fact that this film got made at all, however, can be considered a stroke of luck. Based on Joss Whedon's amazing series,

Firefly

(which was unfairly axed - and that is

not

a biased opinion; the series was never given a fair go),

Serenity

tells the tale of the crew of the ship Serenity, after the series.

Now, I'm the first to admit that I haven't seen the film through the eyes of somebody who wasn't a

Firefly

fan - or hadn't ever seen it, for that matter. However, the film gets those unfamiliar with the universe up to speed, and not at the cost of the fans who already know.

The cast is largely made up of unknowns and TV actors, all of whom bring their best to the big screen. Nathan Fillion as Mal; Gina Torres as Zoe; Alan Tudyk as Wash; Morena Baccarin as Inara; Adam Baldwin as Jayne; Jewel Staite as Kaylee; Ron Glass as Shepherd Book; Sean Maher as Simon; and Summer Glau as River, all return from the series, giving their best. Add in David Krumholtz in an amusing role as the Operative, and Chiwetel Ejiofor (hard name to spell!) as the Operative, and we're treated to an eclectic cast of "characters".



Once again, not ranked

on IMDB's top movies of all time - I'm not agreeing with the voters there, apparently!



"

People don't like to be meddled with. We tell them what to do, what to think, don't run, don't walk. We're in their homes and in their heads and we haven't the right. We're meddlesome."


1. Batman Begins



In a recent interview discussing the fate of

Serenity

and his upcoming

Wonder Woman

, Joss Whedon mentioned that Warner Bros making four bad Batman movies prior to

Batman Begins

is a triumph of the human spirit. That it should really be impossible to make a bad Bat-film.

But, finally Warner Bros has gotten it right, by hiring Christopher Nolan to direct, and David Goyer to write the best script of his life (which, given his previous work isn't hard). What audiences were given is a serious take on Batman, and a complete restart to the franchise. Finally, a live action Batman movie is good, and people are no longer citing

Batman: Mask of the Phantasm

as the one Batman movie to get it right.

The focus isn't on the villains (Ra's al Ghul and the Scarecrow), but instead, Batman, how he came to be, and what it is that drives him. Everyone knows his origin, that his parents were murdered infront of him. But this movie shows us exactly how that screwed a young Bruce Wayne up.

Interestingly, this is the second movie on the list to star Rutger Haur, as it is for Liam Neeson. Both give excellent performances, as do Christian Bale in the title role; Ken Watanabe as Ra's al Ghul; Cillian Murphy as Jonathan Cranne/the Scarecrow; Michael Caine as Alfred; Morgan Freeman as Lucius Fox; Gary Oldman as Sergeant Gordon (not yet Commissioner). Katie Holmes (fiancee to Tom Cruise, recently voted "Most Irritating Person of 2005") gives a decent performance, though not quite to the level of these guys.

Really, this is as close to the most perfect rendition of Batman we're ever likely to see. It's an amazing film. And as an obsessive Bat-fan, it should come as no surprise that I vote it best movie of the year.



Currently ranked

#110

on IMDB's top movies of all time (yes, this got one!).



"

People need dramatic examples to shake them out of apathy and I can't do that as Bruce Wayne, as a man I'm flesh and blood I can be ignored I can be destroyed but as a symbol, as a symbol I can be incorruptible, I can be everlasting."
posted by Batmite 12:00 am


Monday, January 02, 2006
It's happening again!!!
Last year, I had a bitch about Woolworths selling Easter Eggs in January.

Well, this year I'm going to do it again, because

it's goddamn ridiculous!!!

There's marketing, and there's the most ridiculous shit. And this falls into the latter category...

This time the offender's Coles, though I'm guessing that Woolworths is pulling the same crap again. Coles' latest catalogue has not only Easter Eggs, but hot crossed buns on sale, too. Today is the 2nd of January.

This makes it one fucking week after Christmas

.

The rate this is going, in a year or two, we'll have the sales for these overlapping!
posted by Batmite 10:19 pm


Fuck
While watching

The Know

a couple of days back (Friday, if memory serves), something occured to me: the double standards when presenting the word "

fuck

" on television. Now, I make no apologies for my stance on censorship - telling people what they

can

and

cannot

watch, read, whatever is ridiculous.

Anyway, this episode of

The Know

had the panelists discussing their favourite bits of entertainment over 2005, and showed two different clips, where the forbidden word "

fuck

" was used.

First up was a clip from Chris Lilley's comedy series,

We Can Be Heroes

. The word was used in abundance here, in all it's glory.

No bleeps, no blanks, nothing.



Second, we had a clip from the film

Crash

. Here, the word was used frequently as well, however they felt the need to

blank the word out every time it was used

.



This got me thinking, when is it okay to feature the word "

fuck

" on television? Is it suddenly less offensive to viewers' sensitive ears when it comes out of an Australian's mouth? If certain accents make a word suddenly more acceptable, it would explain how Billy Connely's comedy gets shown on TV.

Or is it the fact that

We Can Be Heroes

is a comedy, while

Crash

is a drama? So, if the word "

fuck

" is used to make people laugh, rather than for dramatic tension, it's suddenly more acceptable? It makes you wonder, doesn't it?

Interestingly, when I was watching

The Know

in 2004, the panelists dropped the word with reckless abandon, and any and all clips featured the word in it's untamed glory. Yet, when the series returned in 2005, the producers felt the need to "

class it up

", with a new host, brand new credits and theme music, and making the panelists (and guests when seldomly featured in the new season - as opposed to every episode) behave.



"

Did you know that unless a movie is rated R, you can only use the F word once. You know what I say? Fuck that.

"

- Chilli Palmer,

Be Cool
posted by Batmite 9:55 pm


Sunday, January 01, 2006
Going through the motions
Ah, New Years Eve. A night of fun, frivolity, and

ushering in the new year in drunken style

.

Or, atleast that's the theory. In recent years, the scale of New Years shenanigans have been getting smaller, but they were

still fun nights

(a bit about the last new year). But this year...

not so much

.

I was looking forward to NYE, and then yesterday hit, and I really couldn't give a fuck. But, come 7:30, I change my mind and decide that I may as well head to a party I was invited to.

And how was it?



Completely and totally fucking boring.



I wasn't expecting great things from the night. I wasn't really in the mood. But I figured I'd show up, because, it was, well... New Years Eve. And to be totally honest, I would have rathered spend the night at home.

As it was,

I left at 12:30

, and only stayed around long enough to see the new year in. Oh, I managed to head up to the carpark and get a semi-decent vantage point for watching the fireworks which were a fair way away, and quite sadly, that was the most interesting part of the night.

I'm not saying that this is the end of my heading out on New Years. Not at all. But it's definately the last time I head out for it, for the sake of it.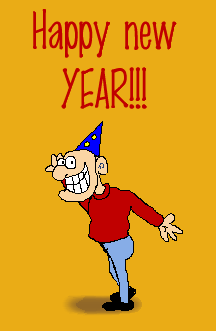 One thing that comes with New Year is the inevitable resolutions that you undoubtedly rarely keep. Last year I made
a few quasi-resolutions
, let's see how I went with them:
Quit smoking


Nope. One big failure here.



Drink less


Yup, this I accomplished. And not just from the amount of work I've been doing (and thus too busy to drink), I cut right down after the new year.



Start writing again


I've kind of accomplished this, though not to the level I was wanting. I'm working on some bits and pieces...



More "personal" blogging


Somewhat. Like the one above, I have to a smaller degree. And let's not forget about the five months where I couldn't be fucked writing anything at all!



Get a girlfriend


Yup, this I've accomplished. Things have been a little strained over the past couple of weeks, so I don't knowhow much longer we'll last. The distance thing kinda sucks.



Save some money


Big time failure. I snagged myself a promotion, I've been working shitloads of overtime, but the saving just doesn't come natually, sadly.
And how about this year? Any resolutions? Well, the ones I failed with last year will be carried over. That, and I would have to say work less. Generally, I aim to try and work harder, because I'm inherently lazy, but with the amount of overtime I've been pulling (
not to mention 19 days straight leading up to Christmas
), I'm going to aim to try and work closer to the standard 40 hour weeks, and try to regain some semblance of a life...
posted by Batmite 11:08 pm